Happy Saturday my little choco babies!
Up until a year ago, I have never really been into shopping online until I had my paypal activated and my first online order (a pretty white dress) arrive within two weeks of hitting check-out. Flash forward to today, I can pretty much say that I'm an online shopping junkie. I am a known patron of instagram and online stores, and among one of my recent finds, is this quaint online store called Mart of china.
As much as I would love to go on and on about the site (which will probably bore you to death and make you exit this post asap T_T), I have decided to make a look book of pieces from the shop instead. I have narrowed down some products I think you guys would love to check out in the post below.
floral patchwork grey sweater // leopard print backpack
For the sweet girl next door:
I found this beautiful sweater that had floral fabric cut outs on the side, and I think this would look great with the pastel leopard backpack on a casual date with the boyfriend to the park or on a shopping date with the girls.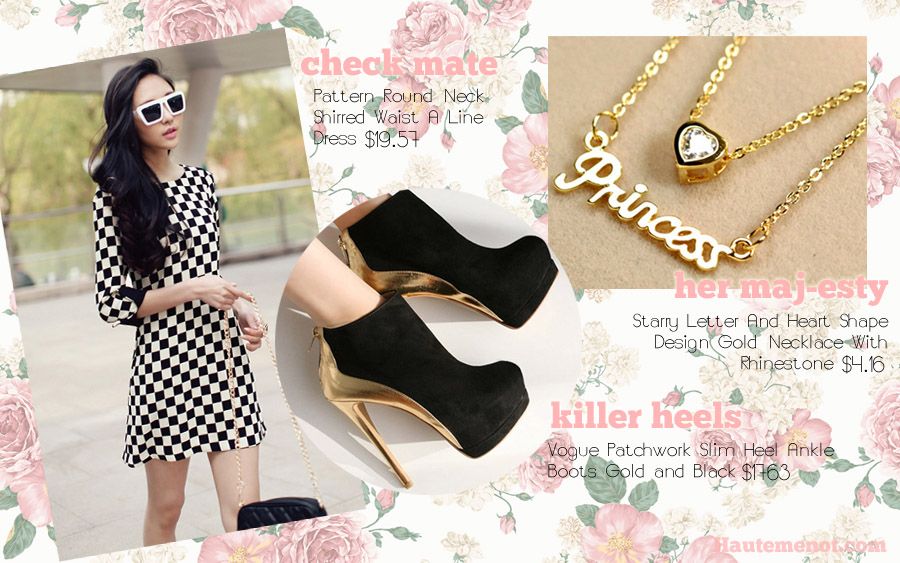 checkered a line dress
//
gold heeled black ankle boots // gold princess necklace
For the fierce fashionista:
Patterned clothing, like this checkered dress, is a trend nowadays. Since this dress can look too basic, I added subtle pieces such as this gold heeled ankle boots and gold accessory to make this outfit pop.
black gauze paned dress // peep toe suede sandals
For the party girl:
I am in love with the cut outs on this bodycon dress. Since everything is held together with the semi-transparent mesh, you can be sure that you can rock the night away without having one of those Lindsay Lohan moments. Oops, flashed you sorry. Pair it with the perfect pair of heels and you are good to go out the front door and into the hottest night clubs.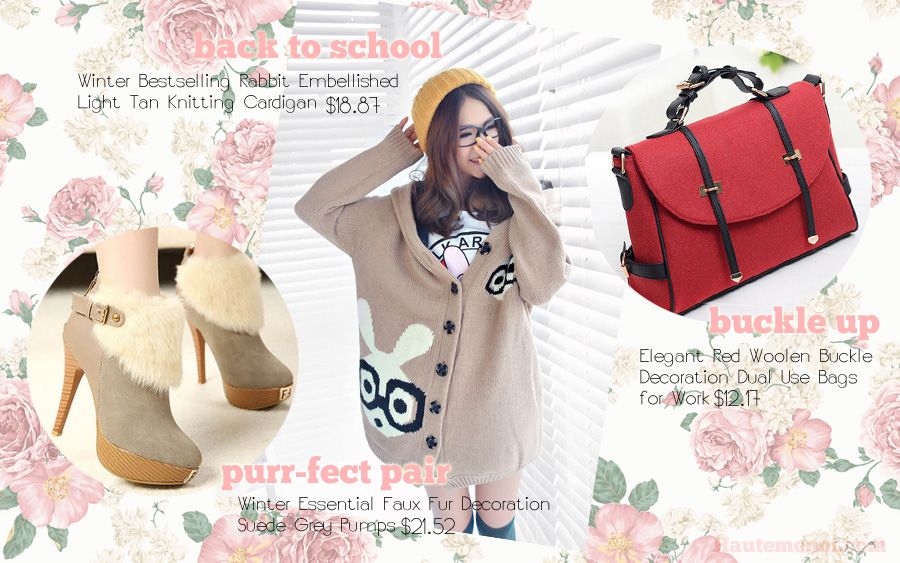 rabbit embellished tan cardigan // red buckle bag // faux fur suede grey pumps
For the back-to-school (or work) girl:
If I were given a chance to go back to school, I would wear this to class in a heart beat! I adore this cute tan cardigan with the little geeky rabbit on the pocket. And doesn't this buckle shoulder bag remind you of the red backpacks japanese kids use to go to school with? I love that it looks classy and the dark accents make it seem fitting for work. And to top it all up, I would wear this with the cutest faux fur ankle pumps for the innocent, youthful vibe.
And now, for the nitty gritty of things, here is the final verdict for Mart of China:
Pros:
Cheaper than most online stores
Has more choices for both men and women
Products are usually one of a kind and in trend
Usually receive the product in the same color in the shop
Cons:
Waiting time of 2-4 weeks when shipped internationally
Silk clothes tend to be crumpled when it arrives
Will I shop again?
Yes. Definitely. Items here are of good quality and are worth the wait.
2 to 4 weeks wait time is not very bad ,onsidering that you are purchasing unique clothes at a fraction of the price. I usually order items adding up to below $50 so I wouldn't have to pay customs dues at the post office whenever I claim them. Since silk or chiffon is a very temperamental fabric, it tends to get crumpled during shipping - but nothing too major as you can just iron out the creases anyway.
Leave me your thoughts and questions below. I would love to hear what you think :D