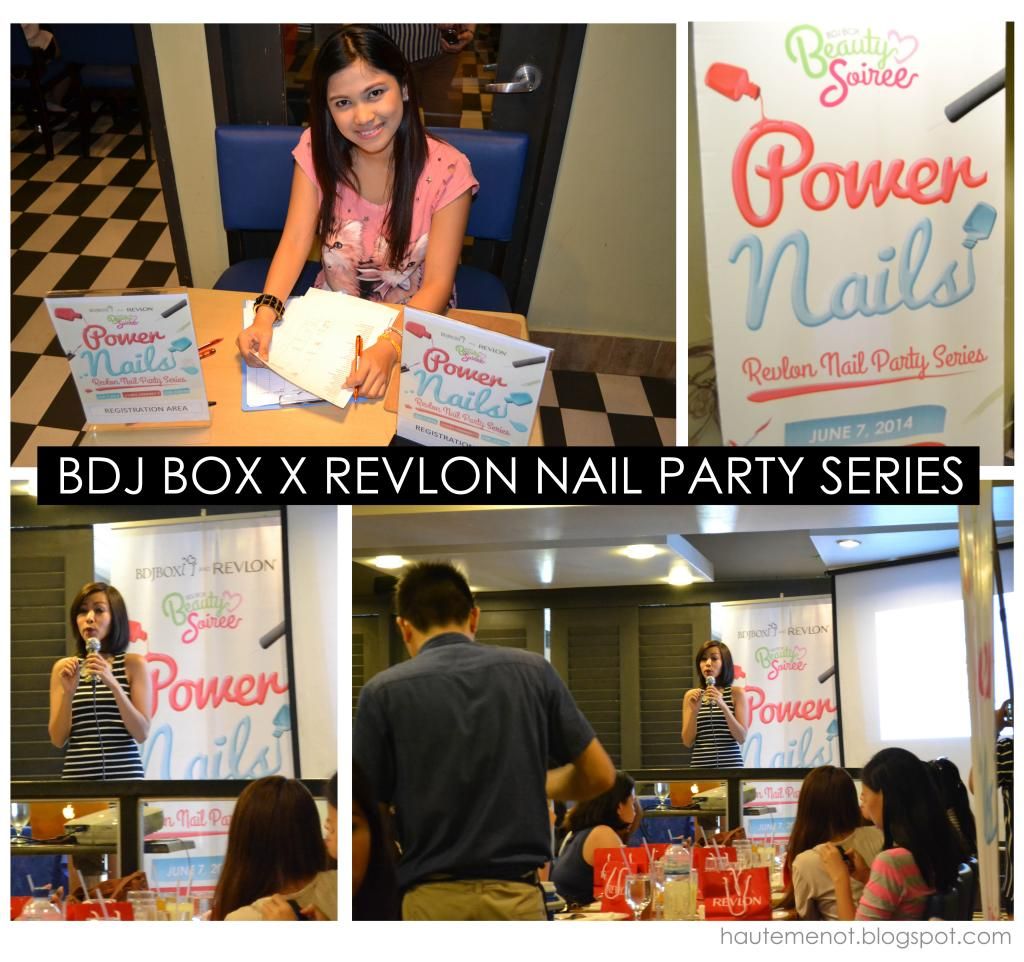 Hello my little darlings!
Last June 7, I was invited to attend the BDJ Beauty Soiree held at Conti's, Greenbelt 2. BDJ Box in partnership with Revlon, held a Nail Party Series with the theme of how to paint work-appropriate "Power Nails". If you want to know how I did with this workshop, then scroll away!
On the top is the nail arsenal I could use at my disposal. The best part? All of these polishes are part of the workshop goodie bag.
Yay!
On the second photo, you could see these amazing Revlon Scented Nail Enamel. Yes, you heard right -scented! They come in these cute perfume bottle type containers which I deeply love.
I'm such a nerd for cute packaging.
Want to learn I how painted my nails?
I started off by prepping my nails with the Revlon Nail Brightener prior to the application of the base coat color. I used the Revlon Nail Art Sun Candy Nail Enamel in #420 White Hot as the base coat, and then I created the pink leopard print with the Sun Candy Nail Art Enamel in #480 Pink Dawn by using the pointy end of the orange stick to dab it on.
Et voila!
A snap of me and these lovely bellas showing off our finished nail masterpiece
[Center: Marie of Mamaneesnest.com]
This lovely bella on the left won best in nail art with her meticulously painted gradient nails
[Left: Aya of Codenameaya.com | Right: Corrine of Singlemomsupermom.com]
Special thanks to Ms. Nicole of beautyandsparkle.com for being our mentor at the event
Overall, I can say that this intimate workshop was a raving success. Not only did I enjoy learning about nail care and proper nail polish application, I also got to meet other lovely like minded bellas at the same time. I had a lot of fun, and I cannot wait to attend the other events that BDJ has in store for all their bellas :)
Want to learn more about BDJ Box and Revlon?
Follow them here:
Bdj Box
fb: www.facebook.com/bdjbox
site: www.bdjbox.com
ig: @bdjbox
Revlon Ph
fb: www.facebook.com/RevlonPhilippines
ig: @revlonph